"You know I was always really very, very good," Venus said at the time, grinning. "Serena, on the other hand, wasn't very good at all. She was small, really slim and the racket was way too big for her. Flip the Script likes to celebrate talent and determination as well as a good read. This autobiography is just that.
The Serena story is incomplete without discussion of her relationship with her sister and tennis double partner Venus, who she describes as her best friend. Serena writes that in spite of her family's belief in her capability during her formative years, outsiders, including players and the media, focused their attention on Venus. As a result Serena lived under Venus' shadow for a long time. However, the underestimation of her abilities only motivated Serena to prove her detractors wrong.
In spite of the one year and three months age difference between the two sisters, Serena describes Venus as being very protective of her. Besides seeing Venus as a protector, Serena also sees Venus as a motivator. If there is one defining characteristic that defines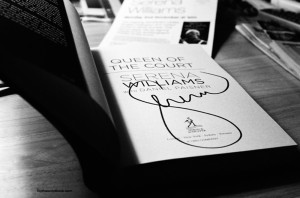 Serena, it is her resilience in the midst of adversity. The autobiography is an honest account of Serena's journey, from her humble beginnings as a three year old struggling to grip a standard sized tennis racquet on the Compton tennis courts, to her triumph as an eleven times (and counting!) Grand Slam winning tennis icon. To enter just complete the contact form at flipthescriptbook.com, good luck! Closing date 10 Aug 2012.