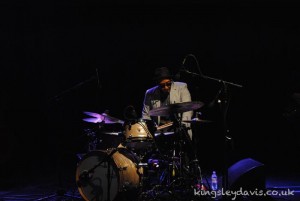 This month we have a special interview with Emanuel Harold. Drummer, Producer, Composer, Educator Native of St.Louis, MO, Harrold began pursuing drums at age sixteen.  His professional career began at the age of seventeen playing with the Willie Akins Quartet. Currently, Emanuel's Dynamic drumming is recorded on the 2010 Grammy Nominated Album " Water" for Best Jazz Album Of The Year (Artist) Gregory Porter. Since relocating to New York he has worked and or recorded with great jazz and contemporaries musicians such as Gregory Porter, Kidz in the Hall, Hypnotic Brass Ensemble, De La Soul and Damon Albarn.

Who / What inspired you to take up drums?
I grew up in a musician family. My father & mother are ministers. My grandmother Rose Evers was a gospel recording artist and my grandfather Frank Harrold sr and his siblings along side CQ Ross performed in competitions 30-50 years ago around the USA. I meet people who know them all the time after I perform in new York.
When I came along, my grandfather had the drum and bugle corp based out of Kinlock Mo, an all black community in St Louis. So marching, drum line, horns and pit percussion was constantly available since I can remember. My brothers, cousins and friends used to explore, get kicked off and find or voice on any and every instrument. So, what really drove me to the drums was not being able to have that choice being, my grandfather strictly wanted us/me to learn and play horns. But of course we would sneak on the drums and get in trouble. Learning melody and harmony from learning horn parts sticks with me today. So one day, the drummer was missing at a church service I went to with my mom and time after time after that. I finally made that step eventually. Years later I committed full time. That was the transition for me. But I always was a drummer at heart..
 Is there any other instruments you can play or are interested in?
I can play at the piano. Not trained though. I can play a few songs on baritone horn (G clef). I do producing and remixes using Native Machine, Pro-tools.
 Whats the most memorable performance you have done abroad and at home?
Most memorable concert was touring with Hypnotic Brass Ensemble and performing with Prince. Eating breakfast and talking to George Duke, and after performing with Gregory Porter in France – Herbie Hancock going out of his way to tell us we had a great vibe..
What are the most important qualities you demand of the musicians who accompany you onstage?
Qualities I look for is for every band mate to do their job. Come to play every night and enjoy themselves. Lastly to be respectful and responsible..
 Where would you most love to perform live?
At the Super Bowl and The Grammy Awards.
What are your favorite films and have they influenced your work?
The Matrix basically had me picture the inner workings of something, a tune, a rhythm or situation. This thought process challenged me to go inside myself. Like a deeper awareness to do the job, the gig, the drum solo. Learning the rule to break the rules.
 Is there any one thing you take on tour with you where ever you go?
I take my camera, cymbals, studio and and a good open positive attitude.
 Is there any musician (alive or dead) that you'd love to work with – why?
Herbie Hancock and Quincy Jones because they are musical genius and a part of the past and the future for this music. Nile Rogers because he is funky. Derrick Hodge because I enjoy his approach to music. Q-Tip, Nas, LL Cool J, Common, Madlib and Rev Run because they like the funky drummer. Max Roach MBoom, Betty Carter, Ella fritz Gerald, Coltrane, Miles, J Mac, T Monk and Ahmad Jahmal because of the legacy of the music.
The projects you have worked on show an open mind to different genres of music – whats planned for the rest of 2014?
Well the 2014 Liquid Spirit Tour with Gregory Porter, working on writing and finding time to practice and transcribe more. Also been talking with renown DJ's about some recordings and shows.
The Liquid Spirit Tour continues through out the UK!